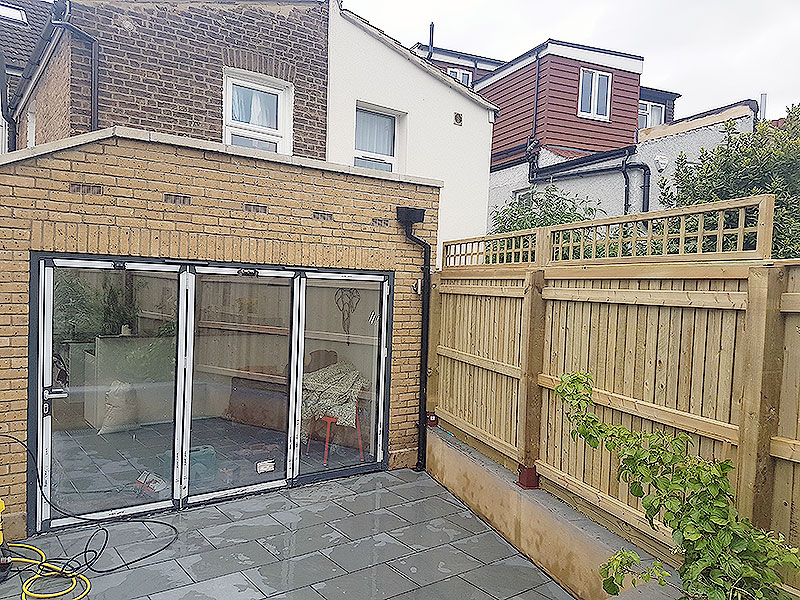 Price for a house refurbishment London
If you are thinking to refurbish your house or are you planning to buy a house and you do not know how much a refurbishment cost in London will be we are here to help you.
You need to understand that having a full refurbishment house will include a wide number of tasks and we will mention below the most frequent one and also we will try to give a rough figure of the cost and time.
First of all, you can start with your brick facade:
Repointing: £6250;
New Wooden Sash windows: £17000 (from Marvin this include remove the old windows and dispose of the waste) 2 x Bay windows, 3 x bedroom sash windows and 1x bathroom sash windows; Not including any damage to the plaster around the windows;
New Hardwood front door: £2800 this include installation and painting – bespoke with 3 small stained glass;
Remove the old garden wall: £600 (including rubbish);
The client decided to transform the small front garden into a driveway; ( the cost for the driveway will be at the bottom being the last stage.)
Painting rendered surfaces: £700;
Scaffolding for the first floor: £1600.
Ground Floor – Front Interior works cost London
Going inside the house, starting with the ground floor for this project we had to get rid of all walls, build up a new one with acoustic insulation slab, plasterboard, plaster, painting and decorating.
If you are a homeowner in London, you should know that you need to test your electrical installation every 10 years as per the Building Regulations. Electrical rewiring and new plumbing was the client option for this project.
Remove old Floorboards, remove old joists, remove old brick stumps, build up new stumps, install new joists in 1 room, 1 hallway (in this stage we have "suspended" the existing stair in order to run the new joist and the full load-bearing 22mm Grooved Chipboard for Wet Underfloor Heating): £4100;
Electrical point price: £50/point (including standard MK white sockets/switches/downlights)
New floor (engineered boards, 24 square metres): £1800;
Painting of hallway (walls and ceilings): £700;
Painting of hallway (woodwork): £650;
New internal doors (x 3): £360;
Plastering walls and ceiling hallway: £700;
Plastering walls and ceiling Living room: £800;
Painting of living room (walls and ceilings): £720;
Painting of woodwork (door frames, doors, skirting): £700;
Build new under stairs Toilet with UFH: £3500 (include building new walls, plumbing, electrical, tiling sanitary ware installation).
Ground Floor - Rear Interior works cost London
The client had in plan to extend the house. Hence we had an architectural plan for a new rear kitchen extension.
You can find the price for House extension here.
Rear - External works cost London
Labour cost for Clearing area, digging, removing soil, skip loading for 20m2: £1300;
A layer of hardcore and compacting; 50mm sand layer; levelling area, Formwork for the concrete slab, Mixing and pouring concrete: £1,160;
Cost for Skips, Hardcore, sand, DPM, timbers, Sand, cement, gravels, 8 x mesh: £1380.
Patio for house extension London
The client decided to go for the same tiles for patio area as in the Kitchen Extension – natural stone slab. You can find a price for building a patio with a retaining wall here.
First floor - Internal works cost
At the first floor, we can discover one master bedroom, one double bedroom, one single bedroom and a family bathroom.
The client chooses to install UFH on the first floor. Lifting up the floorboards we have discovered a 4cm level differences. In order to level up the floor, we have decided to double up the joists. Similar to the ground floor we have used full load bearing 22mm Grooved Chipboard. We have separate the ground floor UFH from the 1st floor one and we have installed a new manifold at the 1st floor.
We have installed wired thermostats to control the Wunda Wet Underfloor system.
We have demolished all walls on the first floor and build up new ones with 4x2 timber, 100mm acoustic insulation slabs and 12.5mm plasterboard.
We have discovered that the party walls were uneven, hence we have installed plasterboard on dot and dab.
Plastering walls and ceiling for this project was a quite easy process having no furniture and new walls installed.
We have complete refurbish the family bathroom and we have used a tanking system for all walls and floor (client request).
All electrical wires were new and we have installed a new wiring network as per client request.
The client decided to go for bedrooms for pendants and in the bathroom for downlights.
The client chooses Brilliant white for painting the walls and ceiling.
We have installed 4 x 4-panel door for the first floor.
Remove old insulation, double up joists: £2300;
Install carpet to bedrooms (60 square metres): £2400;
New family bathroom (inc. sanitaryware, building up new walls, niche wall, new plumbing): £6300;
Plastering to walls and ceilings: £2400;
Painting of walls and ceilings to bedrooms and hallway: £2200;
Painting of woodwork, stair and spindles: £1800;
Pendant installation (x3): £180;
Downlights installation (x6): £300.
Top Floor – Loft Conversion London
'Jumping into the loft' is an often effective use of a way to add more space for your house. If you are lucky and the space alows, you can buil a shower room in order to transform the loft in a suite (for this project client had no space for shower room).
Loft cost:
1. Preparing loft area
- remove old floor
- remove insulation
- remove ceiling joists
- rubbish
2. Structural
- support roof
- install steel beams
- install new floor joist
- rafters reinforced / Double up existing rafters
- Build DWARF wall
3. Supply and fit staircase.
4. Insulation
- supply and fit floor insulation 1200mm
- supply and fit roof insulation - 100mm Celotex between rafters / 52mm Celotex on top of the rafters.
- supply and fit DWARF WALL - 70mm between stud wall/ 50 mm Celotex outside the stud wall.
5. Floor
New floor installation. Supply and fit moisture chipboard (we have some spare but don't know if is moisture resistant)
6. Install plasterboard loft and staircase
7. Plastering
- plastering staircase and loft
8. Electric and plumbing
- supply and fit 1x double radiator 1600mm
- first fix and second fix electric
- install 4-6 sockets
- install 1 switch
- install 2 - 4 lights
Total: £28860
Overall Costs for a full refurbishment house London
For a 3 bedroom house, full refurbishment house in London, a new Kitchen Extension, a new Loft Conversion London, you will look at the rough cost of £180 000.